Crystal Bridge
Integrated Bridge System (IBS) combining the highest aesthetic values with user friendliness, flexibility and modularity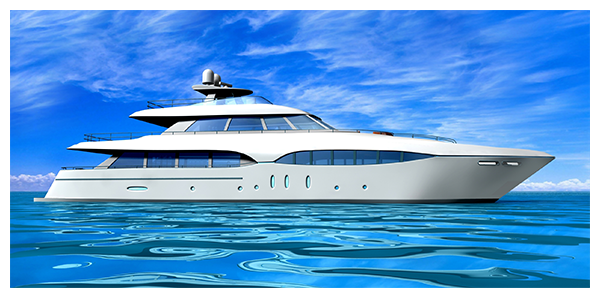 The Crystal Bridge is a completely new Integrated Bridge System (IBS) combining the highest aesthetic values with user friendliness, flexibility and modularity. Comprising main bridge and wing consoles with full functionality and integrated curved glass-plate, Crystal Bridge meets the market demands for high-quality with innovative looks. By utilizing mainly standard components and engineering, individual requirements can be met most cost effectively.
---

The main aesthetic features of the Mega-Guard Crystal Bridge are implemented behind curved or flat glass plates:
Integrated Navigation System; Aesthetic Workstations with 22" or 26" TFT behind a single and curved glass plate. Functions: ARPA Radar, ECDIS, Conning, Fire Alarm System, CCTV, AMCS and PMS.
Integrated Manoeuvring System; Aesthetic buttons and operator controls on 8.4" touch TFT behind a single glass plate. Functions: control of main propulsion, tunnel thrusters, autopilot with dynamic positioning, follow up steering and non follow-up steering.
Miscellaneous Bridge Controls; Aesthetic buttons and operator controls on 8.4" touch TFT behind a single glass plate. Functions: navigation lights control, window wiper control, horn control, pump control, windlass control, stabilizer control, fire dampers, ventilation control, emergency control, searchlight control, backlight & dimming (central dimming of whole Crystal Bridge).
---
Monitoring and operation of all navigation and automation functions from the Crystal Bridge console.
Central alarming of navigation alarms and machinery alarms.
All navigation and automation equipment encorporate same style and technology.
Central backlight dimming and colour adjustment with possibility to adjust brightness level of each separate equipment as well.
Integration of fire alarm system and CCTV based upon same equipment.
Integration of machinery and switchboard based upon same equipment.
---
Each mega yacht is different and the Crystal Bridge is adaptable for each different project; making use of flexible standard components such as the freely configurable 8.4" touch TFT which is mounted behind a single glass plate.
---
Crystal Bridge supports a minimum of 3 and a maximum of 10 Workstations integrated in a single and curved glass plate. In addition, Crystal Bridge supports wireless devices based on IOS and Android platform to be operated as remote Workstations. In this way owner and crew can view all functions of Crystal Bridge on their wireless devices such as Ipad and Android tablet.
---
The Crystal Bridge fully complies with the applicable rules of oceangoing mega yachts.
---
View a list of our worldwide sales and service network.