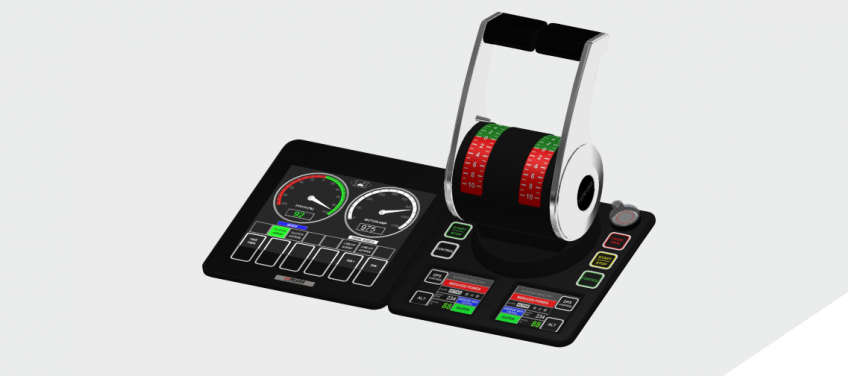 Propulsion Control System
Propulsion Control System (PCS) for automation of all types of main propulsion and engines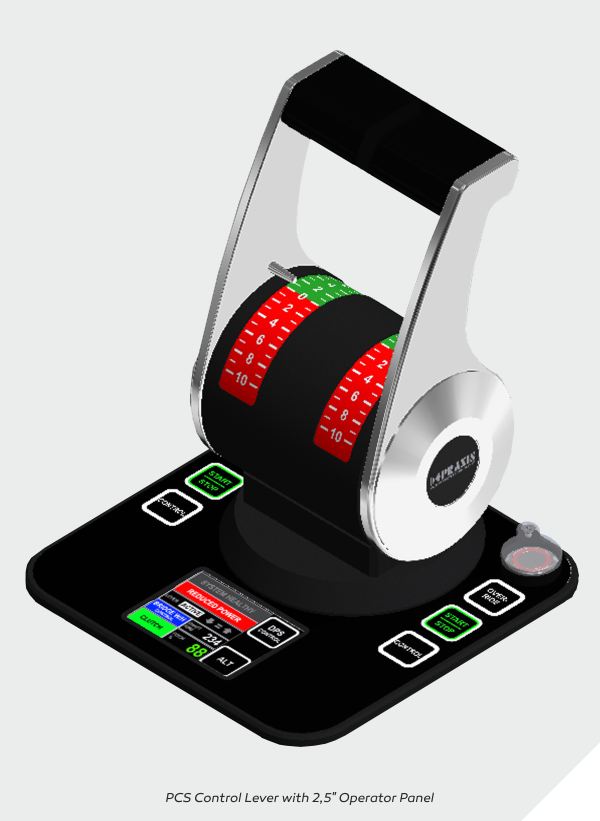 The Mega-Guard Propulsion Control System (PCS) is an advanced system for perfect remote control of thrusters and engines. Propulsion plants are available in many variations which are all covered by Mega-Guard PCS. Example propulsion configurations include:
Mega-Guard Propulsion Control System is built-up in a modular way suitable for all ships and applications. The PCS includes remote control, engine safety, RPM/pitch indication, telegraph and electronic governor functions. The Mega-Guard PCS receives orders from the Control Levers on the bridge and in the control room. The remote control system gives a thrust (RPM and/or pitch) setpoint and activates starting, stopping and reversing mechanisms. Steerable thrusters (azimuth control) are also supported by Mega-Guard PCS.

The Mega-Guard Propulsion Control System can be extended with Mega-Guard Electric Propulsion Motors, Mega-Guard Electric Steerable POD propulsors and Mega-Guard Electric Energy Storage to suit full electric and hybrid propulsion applications.
Mega-Guard PCS is built up with the following main components:
PCS Control Levers flush panel mounted in bridge, bridge wings and ECR console
PCS Operator Panels flush panel mounted in bridge, bridge wings and ECR console
PCS Controller installed in PCS Cabinet or bridge or ECR console
PCS Triple power supply with power distribution (optional)
Non follow-up control (optional)
RPM, pitch and steering indication (optional)
Emergency Telegraph (optional)
The stylish Control Lever can be supplied in various configurations to suit best each application. Chrome and black coated aluminium versions in different shapes are available for this purpose. The symmetric black coated aluminium version is applied for propulsion and tunnel thruster applications. The chrome version is available in a symmetric and non-symmetric version. The symmetric version is mainly used for tunnel thruster and the non-symmetric version is used for propulsion applications. A Control Lever is available in a single and dual configuration with same dimensions. Control Levers for steerable thrusters are equipped with a 360 degrees rotatable steering lever. PCS Control Levers are available with 'electric shaft' in order to synchronize all Control Levers as well.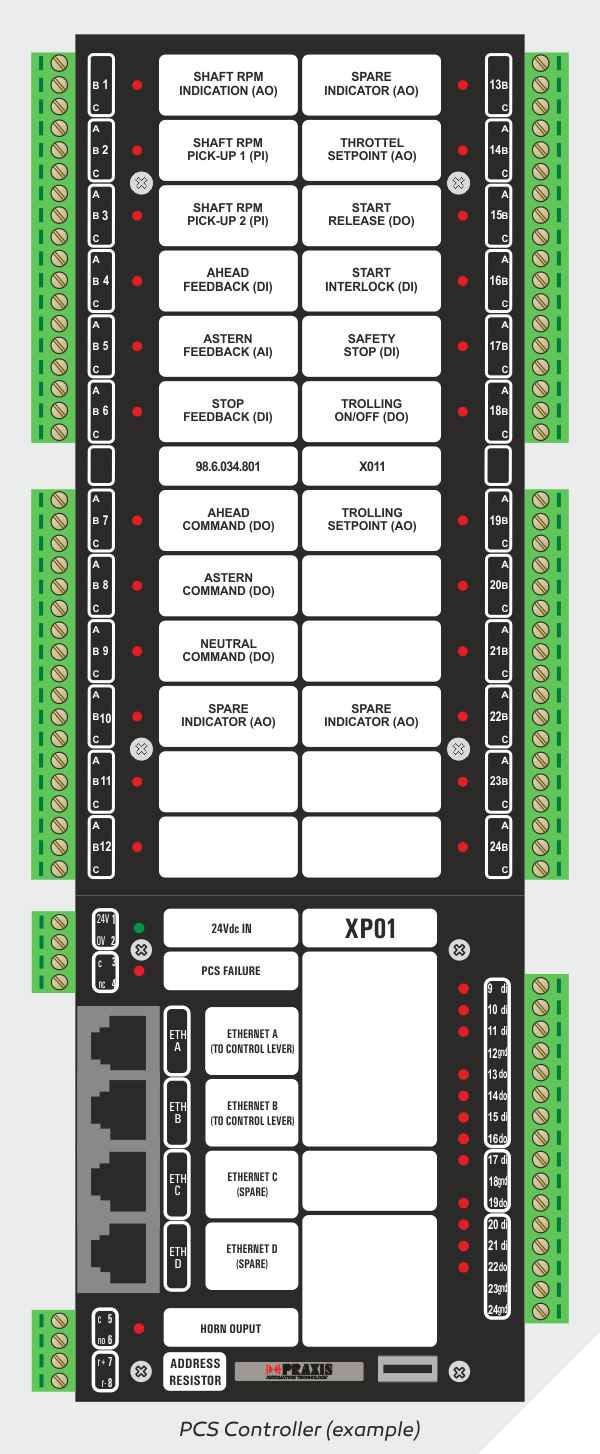 PCS Operator Panels are equipped with a user friendly touchscreen for intuitive operation and monitoring of propulsion plant. Operator Panels have a built-in PLC controller, I/O interface and Graphic Engine. This allows to adapt Mega-Guard PCS for all types of propulsion applications. PCS Operator Panels are connected to other Operator Panels
and to the PCS Controller through Ethernet wired in a loop for redundancy. Different type of Operator Panels are available to suit different applications for the following market segments:
Commercial ships : 5.7" touchscreen with separate Control Lever
Yachts and small ships : 2.5" touchscreen and integrated Control Lever.
Navy ships and mega yachts : 8" touchscreen with separate Control Lever.
Full glass versions are available to suit yacht and mega yacht applications.
The PCS Controller consist of a compact PLC controller and one or two I/O modules depending on the application requirements. Two PCS Controllers are used in case of a steerable thruster; one for thrust and one for steering. The PCS Controller is connected to the PCS Operator Panels through Ethernet wired in a loop. In addition, spare Ethernet ports are available to
connect the Mega-Guard PCS to other Mega-Guard systems such as Mega-Guard Vessel Management System and Mega-Guard Dynamic Positioning System. Mega-Guard PCS can also communicate with thrusters and engines through Ethernet and various serial protocols. One I/O module is sufficient for standard applications regarding FPP and CPP thrusters.
An additional I/O module is needed in case engine control, non follow-up and/or special operator modes are required. The PCS Controller is mounted on a TS35 DIN rail and installed in a bulkhead mounted PCS Cabinet or in bridge or ECR console.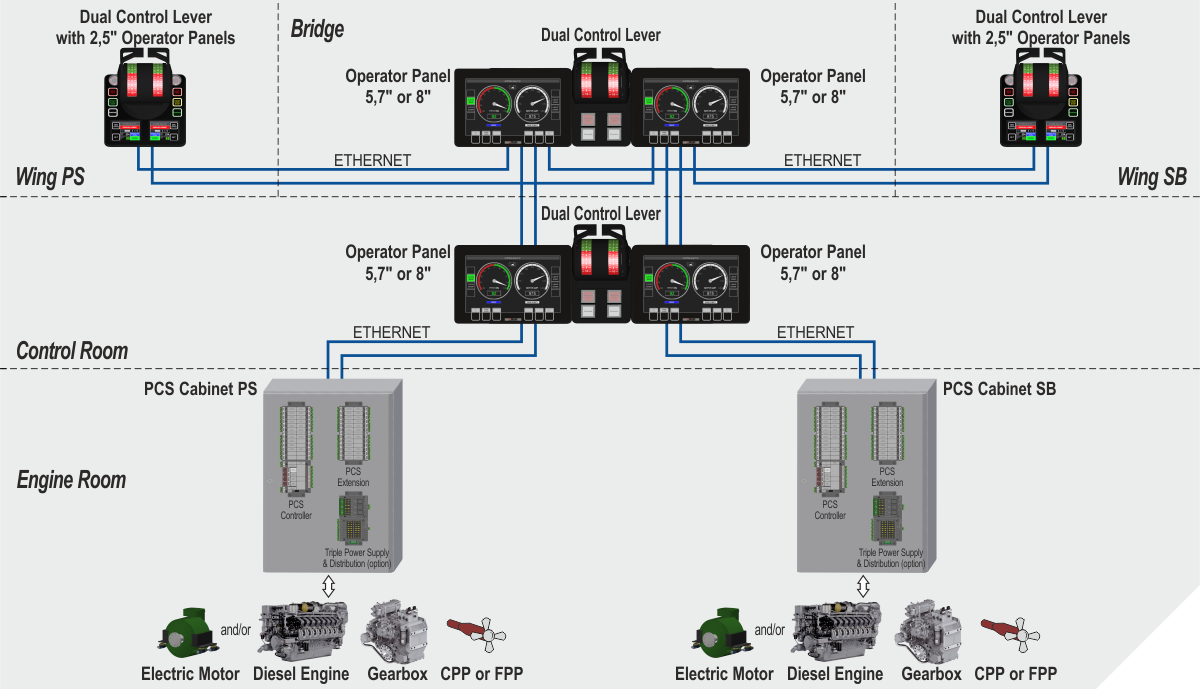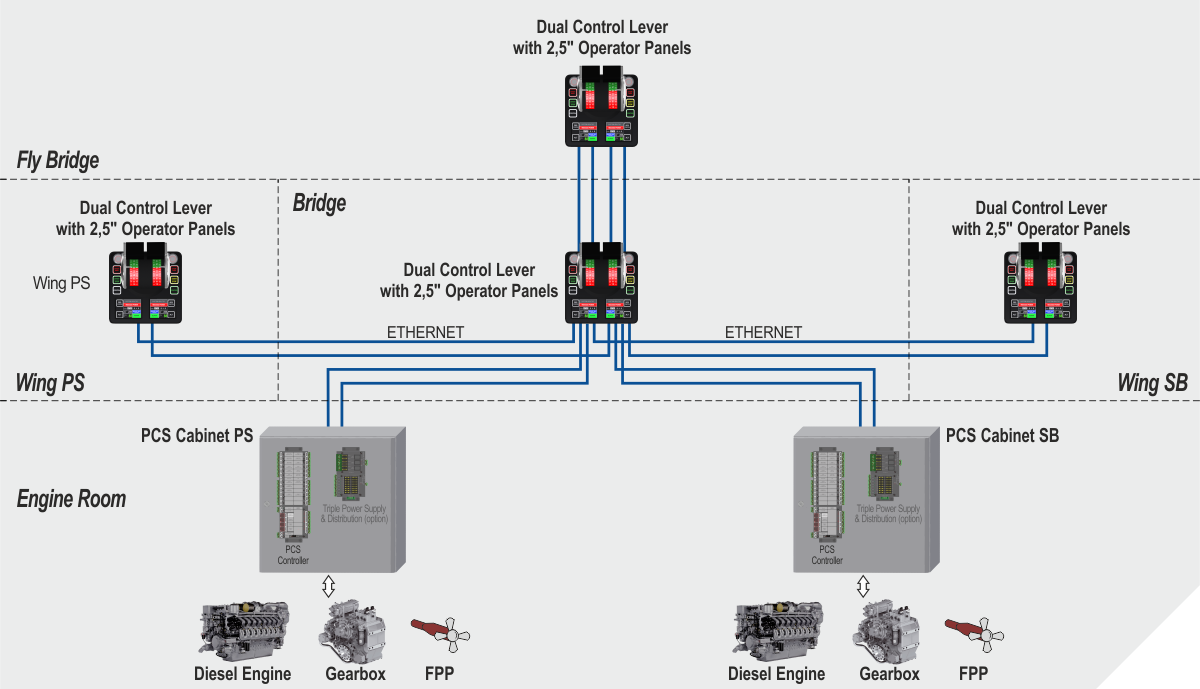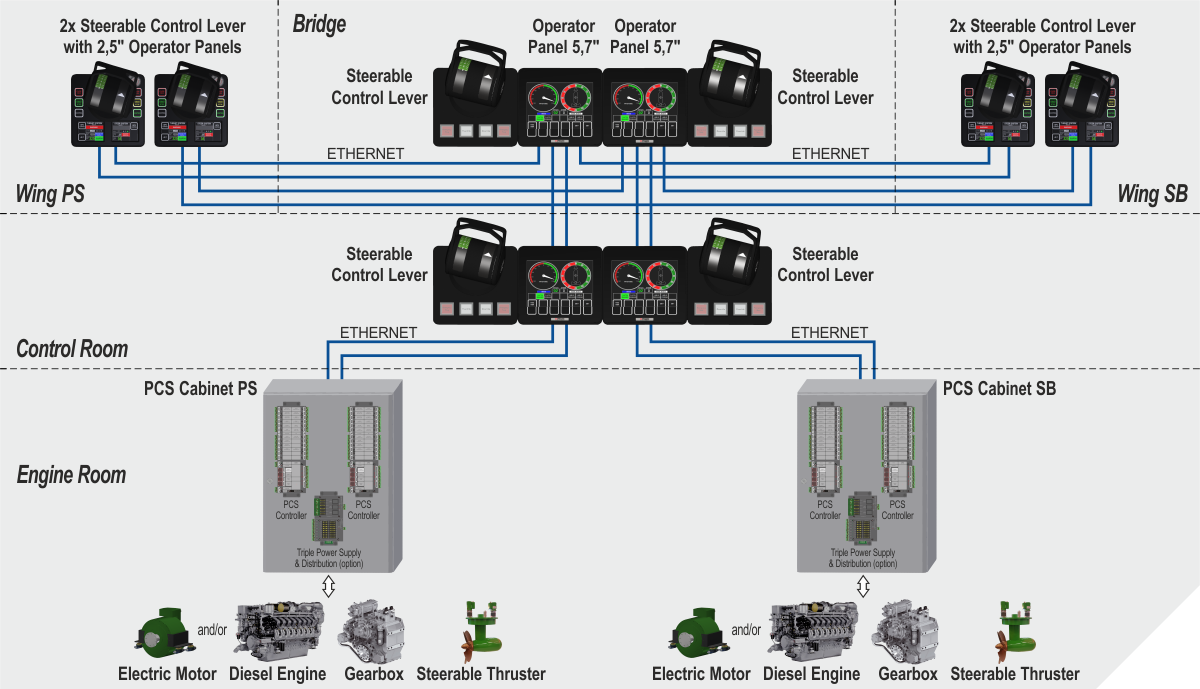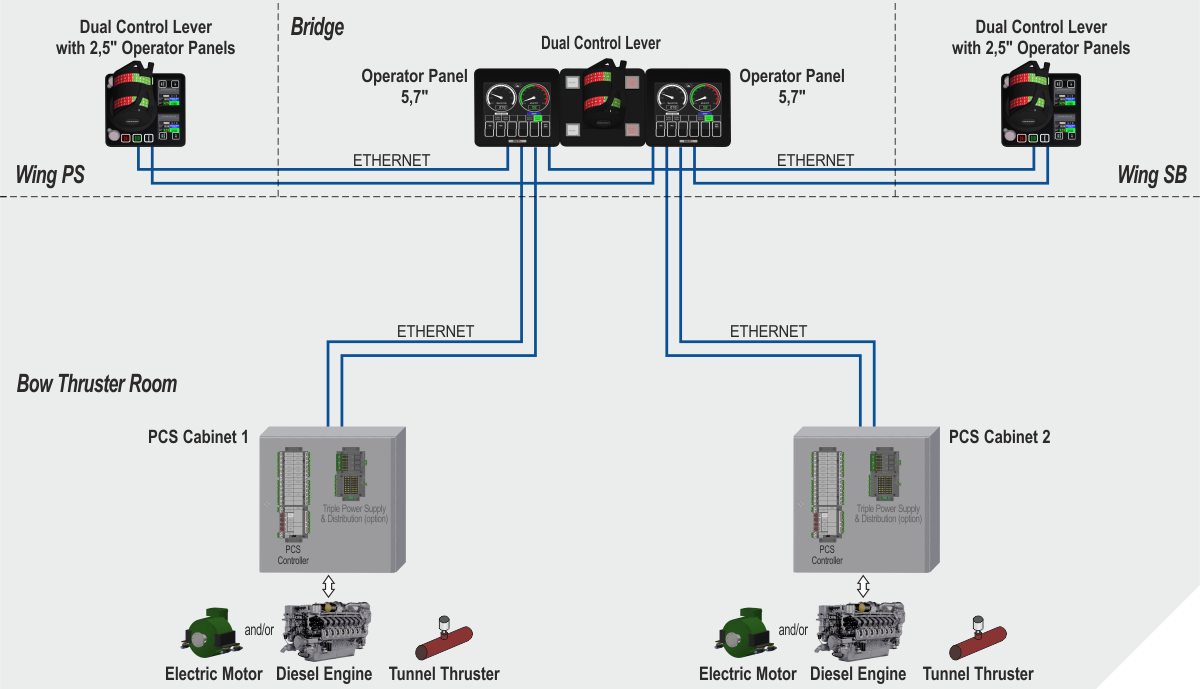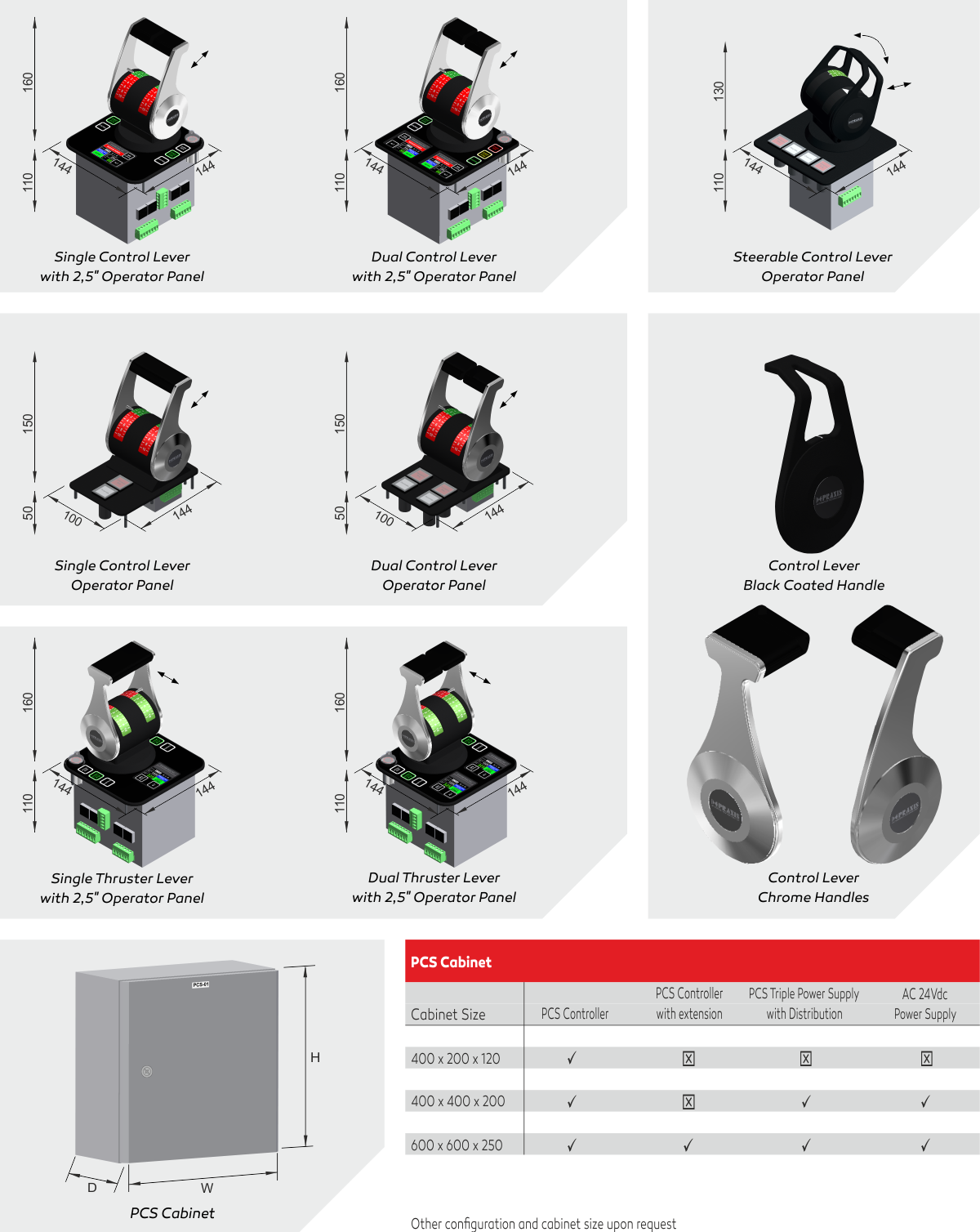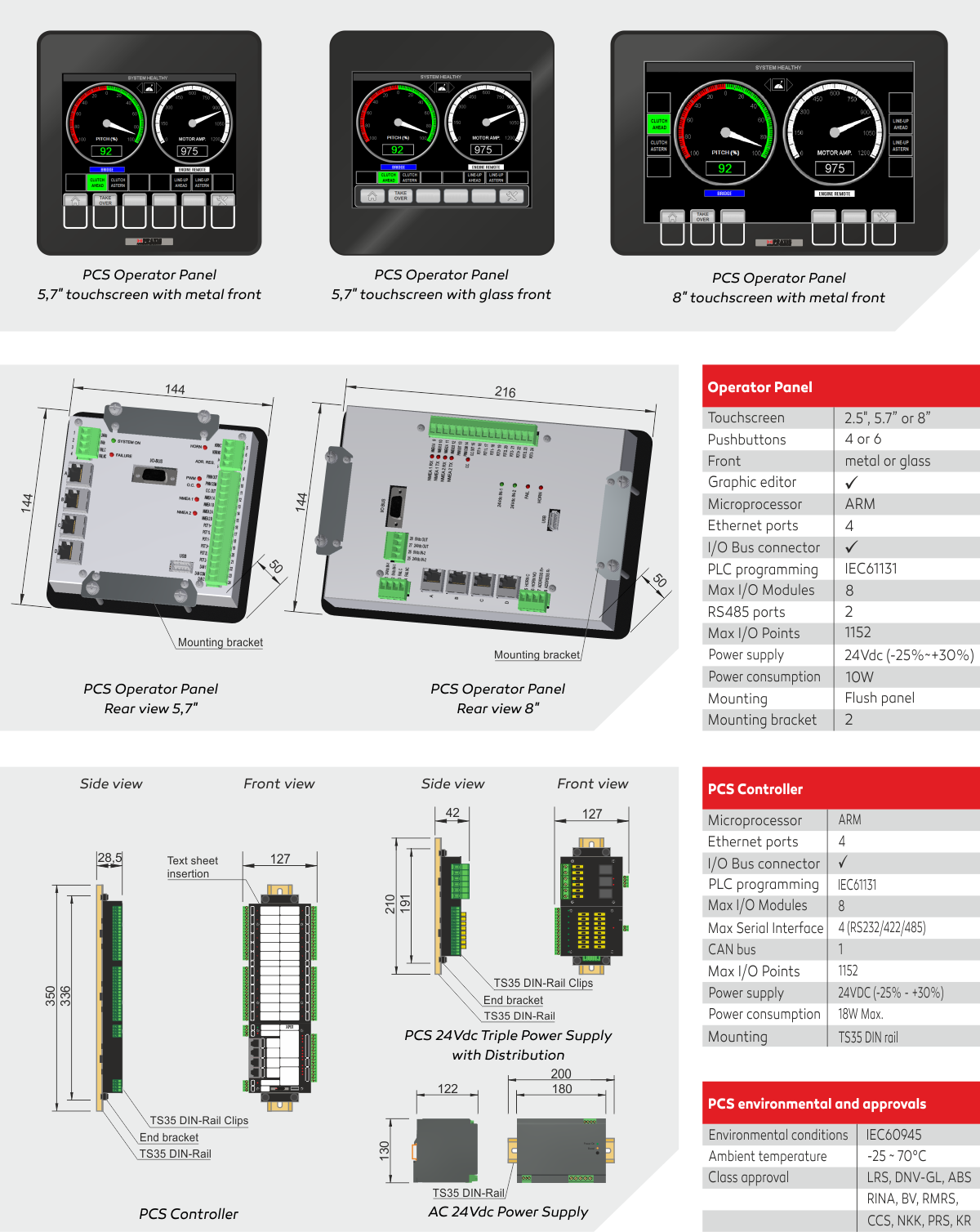 View a list of our worldwide sales and service network.