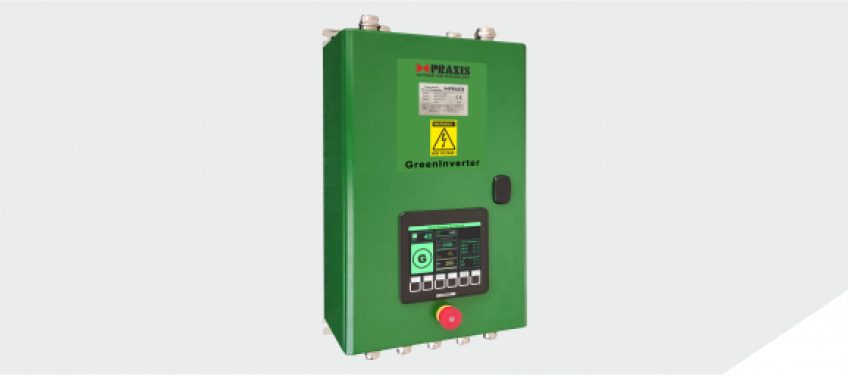 GreenInverter
GreenInverter

Mega-Guard GreenInverter is an advanced and compact high power inverter system covering the following drive applications:
Electric propulsion motor drive from DC bus
Generator drive and charging the GreenBatteries
AC grid generation from DC bus
Shore power conversion and charging the GreenBatteries
DC/DC conversion
Mega-Guard GreenBatteries (electric energy storage) are connected to DC bus as well. They are charged and discharged by Mega-Guard GreenInverters.


A GreenInverter is available in various current and voltage ranges: from maximum current 225A to 1400A and a maximum voltage of 800VDC or 1000VDC. In addition, a Mega-Guard GreenInverter is available in 2 different housings:

Compact housing: up to 450A with single high voltage cables for DC bus and 3 phase AC voltage
Extended housing: up to 1400A with dual high voltage cables for DC bus and 3 phase AC voltage
The EMC cable glands for the high voltage cables are suitably sized to support large cable diameters.

Mega-Guard GreenInverter is equipped with various hardware inputs and outputs for external control and monitoring purpose. Advanced four quadrant inverter software is applied to support sensor-less control of electric motor RPM.
A high power GreenInverter is built-up with the following main components:
Operator Panel with built-in Control Processor and GreenInverter application programming in IEC61131 language
Inverter controller with integrated safety functions and advanced four quadrant motor control software
3x IGBT up to 1400A for 3 phase AC motor/generator driving
DC Bus capacitors
Water cooling circuit for cooling the IGBT's and internal electronics
View a list of our worldwide sales and service network.