Mega-Guard Propulsion Control System (PCS)
Automates remote control on the bridge from the main propulsion engines, gearboxes and fixed or controllable pitch propelllers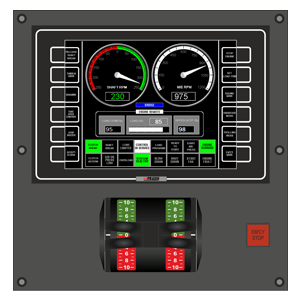 The Mega-Guard Propulsion Control System (PCS) fully automates the remote control on the bridge from the main propulsion engines, gearboxes and fixed or controllable pitch propellers. The Propulsion Control System includes remote control, engine safety, RPM/pitch indication, telegraph and electronic governor. The Mega-Guard PCS receives orders from the Manoeuvring Lever on the bridge and control room. The remote control system activates starting, stopping and reversing mechanisms and gives a thrust (speed or pitch) setpoint. Steerable thrusters (azimuth control) are also supported by the Mega-Guard PCS. The Mega-Guard Propulsion Control System includes frequency controlled electronic drive systems for electric propulsion motors up to 3000kW at 690Vac as well.
---
The Mega-Guard Propulsion Control System supports the following propulsion configurations:
Engines
Medium speed diesel engine
Low speed reversible diesel engine
Electric motor
Thrusters
Fixed pitch propeller (FPP)
Controllable pitch propeller (CPP)
Azimuth thruster/Z Drive
---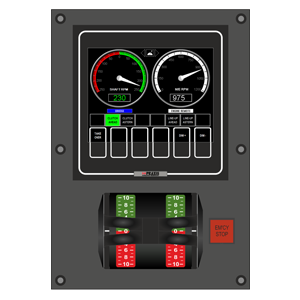 The Mega-Guard PCS is operated from Operator Panels at bridge, control room
and local control stand. The bridge and control room Operator Panels are identical and contain the following:
Manoeuvring Lever (follow-up control).
The Manoeuvring Lever is supplied depending on propulsion configuration: single lever, double lever and azimuth lever with steering function. Electrical shaft (synchronisation) in between bridge levers is supplied as option.
8.4" TFT colour display with 12 control pushbuttons.
RPM, pitch, load and/or steering indicators are integrated in the 8.4" TFT. In addition, control position, control mode and various alarms and status indicators are displayed. The PCS is operated via 12 control pushbuttons and includes pushbuttons for control position take over, start/stop, operating mode (manoeuvring, sailing, emergency), combined or seperate RPM/pitch control, dimming etc.
The non follow-up control is used as a back-up in case the remote control system fails.
Emergency Stop pushbutton.
Integrated Telegraph order/reply with additional Telegraph Indication Panel.
Dual wing indicators for RPM, pitch, load and/or steering, implemented on 5.7" TFT, are available as well. The wing panel can be extended with Lever and Emergency Stop pushbutton. Take over and dimming pushbuttons are integrated in the 5.7" TFT.
---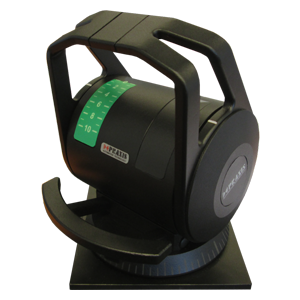 The PCS Control Cabinet is bulkhead mounted in control room. Alternatively, a mounting plate can be delivered for installation in control room console. The PCS Control Cabinet includes a remote control system, an indication system, a back-up control system and a no break power supply with power distribution. In case of Azimuth Thruster a seperate steering control system is integrated as well in the PCS Control Cabinet. The remote control system and steering control system are built-up with a Control Processor and I/O Modules. Programming of the PCS is in accordance with the IEC61131 standard. Field cables are connected to the terminals strips on the I/O Modules. The Control Cabinet also supports serial interfaces to e.g. main engine and/or AMS.
Two power supplies need to be connected to the Propulsion Control System:
230VAC main supply
24VAC back-up battery supply
All other components from the Propulsion Control System are fed from the power distribution logic in the PCS Control Cabinet. The Operator Panels on Bridge and Control Room are connected to the PCS Control Cabinet via redundant Ethernet connection.
---
A PCS Local Cabinet is bulkhead mounted near the engine or thruster. The PCS Local Cabinet contains the following:
Dual indicator for RPM, pitch, load and/or steering implemented on 5,7" TFT
Non follow-up control pushbuttons
Emergency stop pushbutton
Telegraph reply panel
---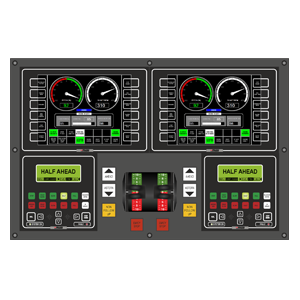 The electronic governor consists of an Electric Actuator with Electronic Drive Unit and a Speed Controller. The Actuator is connected to the fuel rack of the diesel engine and the Speed Controller controls the position of the Actuator in order to set the RPM to the required setpoint as requested by the remote control system. Three different sizes are available for engines with cylinder bores ranging from 20 to 120cm.
---
Electric propulsion is fully supported by the Mega-Guard PCS. Electric propulsion motors up to 690Vac, with a power ranging from 300kW to 3000kW, are driven by the frequency controlled electronic drive systems. Electric motors are supported from various vendors depending on customer requirements.
---
View a list of our worldwide sales and service network.