CPP Propulsion Control System
The CPP Propulsion Control System (CPP) fully automates from bridge and control room the control of CPP thruster and main engine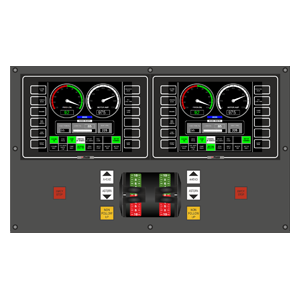 The Mega-Guard CPP Propulsion Control System (CPP) fully automates from bridge and control room the control of CPP thruster and main engine. The CPP thruster can be driven by electric or diesel motor. The Mega-Guard CPP can be supplied for a single engine / single CPP thruster or for a dual engine / dual CPP thruster. Two engines on one shaft is supported as an option as well. The CPP Propulsion Control System fulfills the rules of the classification societies and includes, remote control, safety, pitch indication, RPM indication and a back-up pitch control system.
Operator Panels can be supplied for bridge fore, bridge aft, bridge wings and control room. Operator panels are equipped with a combined pitch and RPM setting lever and a display to select various operator modes and to
indicate pitch, engine RPM, shaft RPM and motor load.
---
Main components on each control position are (in case of a single engine and single CPP thruster):
Pitch and RPM setting lever
8.4" TFT colour display equipped with pitch, engine RPM, shaft RPM and load indicators.
In addition, the 8.4" TFT is equipped with 12 control pushbuttons and various other indicators including alarms
Including pushbuttons for dimming and take over (when applicable).
Emergency Stop pushbutton
Back-up control of pitch
Option: telegraph system
A VDR serial interface is provided on the bridge Operator Panel (NMEA0183 protocol). Two or more bridge panels are supplied in case of bridge fore and bridge aft. Dual wing indicators for pitch and shaft RPM, implemented on 5.7" TFT, are available as well. The wing panel can be extended with RPM/pitch setting lever and Emergency Stop pushbutton. Bumpless take over control is realized with line-up indication lamps on the 8.4" and 5.7" TFT colour displays or an electrical shaft (synchronization) between bridge levers can be supplied as an option.
---
Pushbuttons are integrated on the Operator Panel with function indication on the 8.4" TFT colour display.
The following typical functions can be selected:
Start motor and stop motor
Combinator mode and individual mode selection
Constant RPM mode selection
Sailing and manoeuvring mode
Load trim setting (%)
Take over control from bridge to control room
Tandem mode selection
Dimming mode selection (bridge) or parameter mode selection (control room)
---
The non follow up back-up control is used as a back-up in case the remote control system fails. Typically the back-up control contains 3 pushbuttons on each control location:
Non follow-up control; in order to select this mode
Increase pitch to ahead
Decrease pitch to astern
---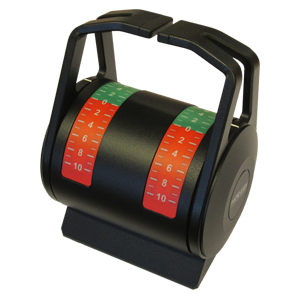 The CPP Control Cabinet is bulkhead mounted in control room.
The CPP Control Cabinet includes a remote control system, an indication system (pitch, engine RPM, shaft RPM, load etc), a back-up control system and a no break power supply with power distribution. The remote control system is built-up with a Control Processor and two I/O Modules:
II/O Module with 18 digital inputs and 18 relay outputs
I/O Module with 4 analog outputs and up to 20 free configurable I/O points (AI,AO,DI and DO)
Programming of the Mega-Guard CPP is in accordance with the IEC61131 standard. Field cables are connected to the terminal strips on the I/O Modules. The Control Processor also supports serial interfaces which are supplied in case the motor or drive provides a serial interface or in case a serial interface is required with AMS. Two power supplies need to be connected to the CPP Propulsion Control System:
230VAC main supply
24VDC back-up battery supply
All other components from the CPP Propulsion Control System are fed from the power distribution logic in the CPP Control Cabinet. The Operator Panels on bridge and control room are connected to the CPP Control Cabinet via redundant Ethernet connection.
---
The CPP Local Cabinet is bulkhead mounted (with vibration dampers) near the CPP hydraulics. The CPP Local Cabinet includes the following:
Dual indicator for pitch and shaft RPM or load indicator implemented on 5,7" TFT
Back-up control pushbutton for pitch
Option: telegraph reply panel
---
A soft starter cabinet for the electric propulsion motor can be provided as an option. Electric motors are supported from 250KW up to 3400KW with voltages up to 690VAC.
---
View a list of our worldwide sales and service network.