Bridge Manoeuvring System
The Mega-Guard Bridge Manoeuvring System fully automates the remote control of the propulsion engine from the bridge and control room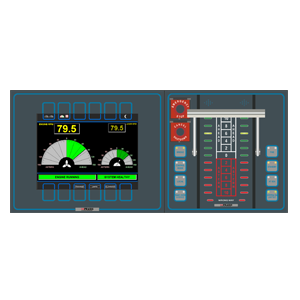 The Mega-Guard Bridge Manoeuvring System fully automates the remote control of the propulsion engine from the bridge and control room. All functions of main engine remote control as required by 2 stroke engine manufacturers MAN B&W (ME and MCC Engines) and Wärtsila NSD (Flex and RTA Engines) are executed by the Mega-Guard BMS.
The reliable Operator Panels on the Bridge, the Control Room and on the Local Emergency Stand are easy to operate and to install. The remote control system receives orders from the combined manoeuvring / telegraph lever on the Bridge or Control Room. The remote control system activates starting, stopping and reversing mechanism on the engine and gives a Speed Setpoint to the Electronic Governor.
---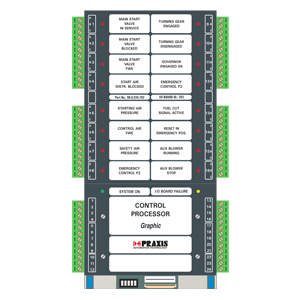 The Mega-Guard Bridge Manoeuvring System is built-up with the following independent systems:
Remote Control System
Engine Telegraph System
Safety System
Speed Controller
Each independent system is built-up with the same hardware and software components in order to minimize the number of different spare parts. The independent systems communicate with each other via the Fieldbus network (main/backup). The redundant Fieldbus can be delivered in Ethernet or CAN-Bus technology. Communication to other systems, such as ship's alarm and monitoring system, takes place via hard-wired signals or serial link. A serial link interface is provided to record all events to the Voyage Data Recorder.
Advanced Control Processors equipped with I/O Modules are used in each independent system. Sensors and actuators are directly wired to the I/O Modules which are mounted on a DIN rail.
---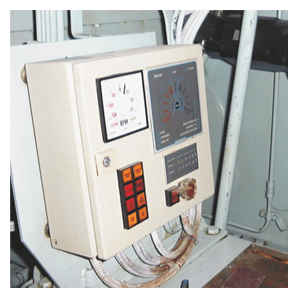 Operator Panels are connected via dedicated cables to the Control Processors. The following Operator Panels are available:
Bridge Control, Lever and Telegraph Operator Panel
Bridge Wing Operator Panel
CR Control, Lever and Telegraph Operator Panel
CR Back-up Operator Panel
ER Telegraph Operator Panel
The Bridge and CR Operator Panel are equipped with a 7" TFT color graphic screen which can be operated via easy to use soft keys.
---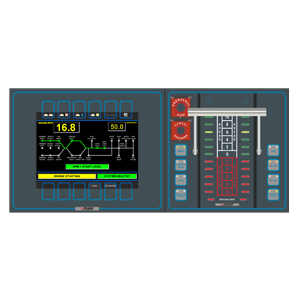 The highly reliable Speed Controller controls the speed of the main engine by adjusting the fuel rack. The Electronic Governor consists of an Electric Actuator with Electronic Drive Unit and a Speed Controller. The Governor is operated via the CR Operator Panel in the control room console. The Speed Controller uses advanced control algorithms in order to control engine speed. The Electronic Governor requires no maintenance and makes use of a brush-less AC servo-motor. Three different sizes are available for engines with cylinder bores ranging from 40 to 120mm. The Electronic Governor provides accurate speed control of the main engine; even in heavy conditions like rough weather, wind-milling, minimum speed and failure of one cylinder.
---
View a list of our worldwide sales and service network.