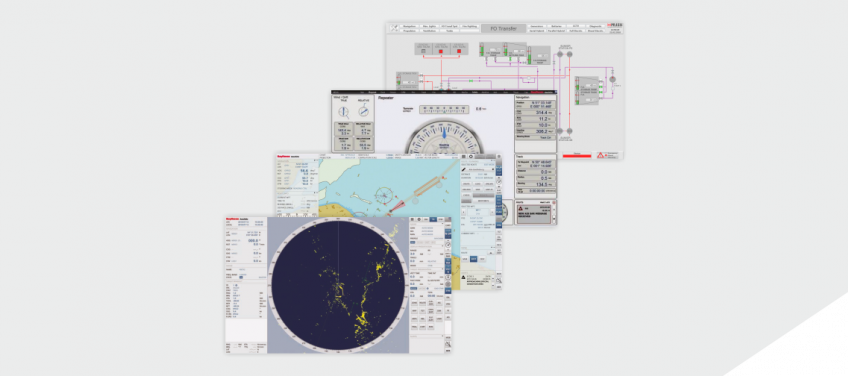 Integrated Navigation System
The Mega-Guard INS integrates all bridge equipment and complies with the one man integrated bridge philosophy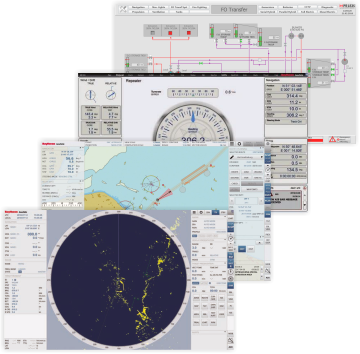 The Mega-Guard Integrated Navigation System (INS) is an advanced system for perfect navigation for ships. Mega-Guard INS is a modular system which can be tailor made based upon ship's navigation requirements. Both IMO compliant and non IMO compliant variants are available to suit all ship navigation applications. The Mega-Guard Integrated Navigation System is based upon a minimum of three multi-function Operator Workstations. The Mega-Guard Heading Control System is fully integrated in Mega-Guard INS.
On each Operator Workstation the following functions are available:
ARPA Radar
ECDIS or ECS
Conning
Vessel Management System (VMS)
Central Alert Management (CAM)
Mega-Guard INS integrates all bridge navigation equipment and presents the data in an uniform way on the multi-function Operator Workstations.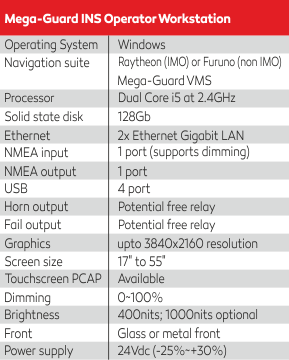 A typical Mega-Guard INS is built-up with the following main components:
Operator Workstations
Heading Control System
Steering Control System
Navigation sensors and Navigation Operator Panels
A redundant Ethernet network inter-connects all components of the Mega-Guard INS. Mega-Guard VMS is integrated as well in the INS Operator Workstations. Mega-Guard INS supports optionally Track Control and/or Cruise Control modes. In addition, CAM functionality in compliance with IMO can be added for an uniform presentation and handling of alarm and alerts.
The following navigation sensors are interfaced to Mega-Guard INS:
X and S Band Radar
Gyro and/or Compass GPS
DGPS
Speed
Depth
Wind
AIS
Navtex
The navigation sensors are of black box type and interfaced to the Operator Workstations. In addition, Navigation Operator Panels can be installed to reach independent and continuous indication of rudder angle, heading, position, speed, depth and wind in order to fulfill customer and/or IMO requirements. A Navigation Operator Panel is equipped with a 5.7" or 8" touchscreen, with full glass or foil front for intuitive operation and monitoring. Navigation Operator Panels are directly interfaced to the redundant Ethernet network.
Mega-Guard INS can be easily extended with other Mega-Guard products in order to realize an uniform and easy to operate bridge lay-out. The following Mega-Guard products can be added to the INS:
Mega-Guard PCS Propulsion Control System
Mega-Guard DPS Dynamic Positioning System
Mega-Guard BNWAS Watch Alarm System
Mega-Guard NLC Navigation Light Control
Mega-Guard WCS Wiper Control System
Mega-Guard FAS Fire Alarm System
Note that Mega-Guard Vessel Management System, Heading Control System and Steering Control System are already part of Mega-Guard INS. Additional functions such as control of horn, searchlight, anchor and others can be implemented with Navigational Operator Panels. In addition, a VDR can be added to Mega-Guard INS.
The Mega-Guard INS integrates a radar transceiver with corresponding software from either Raytheon (IMO compliant) or Furuno (non IMO compliant). The radar transceivers from both Raytheon and Furuno are upmast configurations with direct connection to the redundant Ethernet network.

The INS Integrated Navigation System is applied in all type of ships. Four market segments are distinguished:
Commercial ships ; IMO version with Raytheon core
Mega yachts ; IMO version with Raytheon core
Yachts and non IMO ships ; Non IMO version with Furuno core
Navy ships ; IMO version with Raytheon core and WECDIS
INS Workstations and Operator Panels for mega yachts are delivered with highly esthetic glass fronts and for
commercial ships a foil front with integrated pushbuttons is applied. Navy ships require a more robust INS with
higher shock and vibration resistance. In addition, navy ships may require added functionality such as WECDIS.

Workstations can be operated with touchscreen. In addition to this two types of input devices are available: a Trackpad and Trackball Operator Panel. The Trackpad Panel offers a large trackpad for accurate and easy selection of the required function on the Workstation or monitor. The Trackball Panel is equipped with a trackball for function selection and a keypad is also integrated in this panel.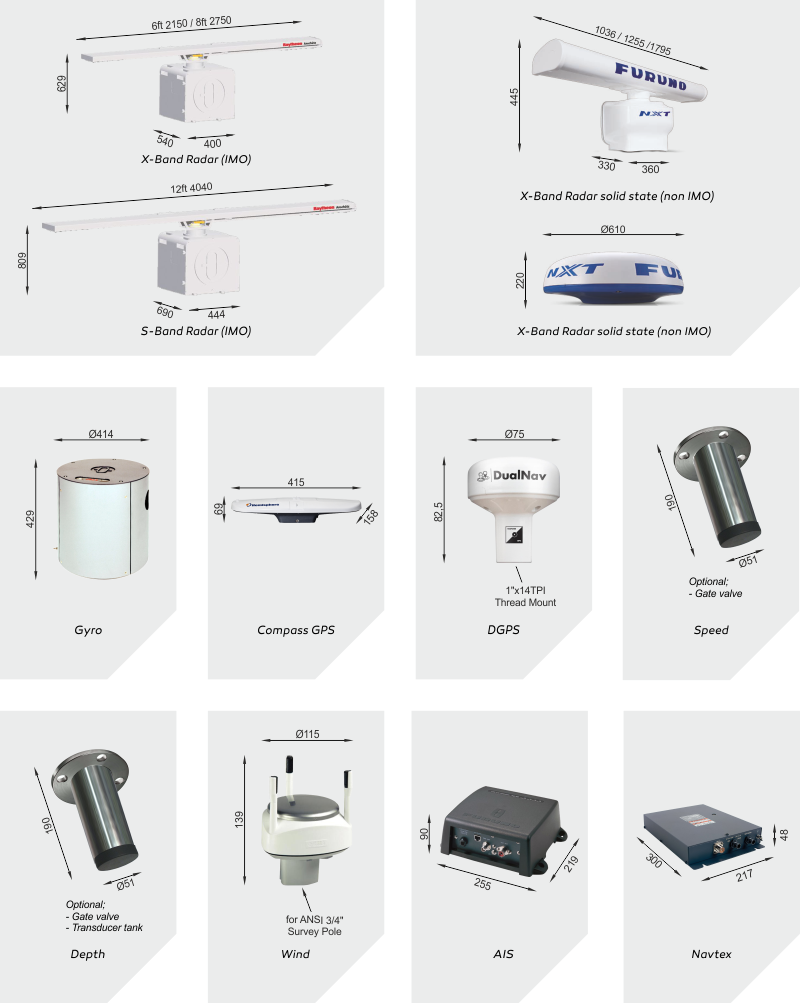 ---
View a list of our worldwide sales and service network.